5 Questions to Ask Your Jewelry Repair Professional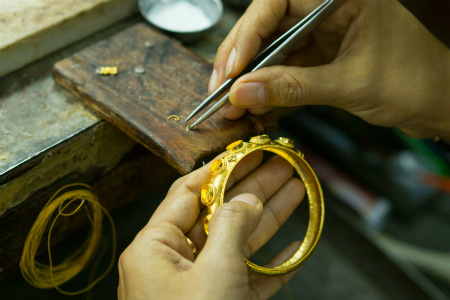 If you have a watch, necklace, or engagement ring that needs a fix, you'll want to invest in some professional repair services. But before diving headfirst into your investment, it's important to know what questions to ask your jeweler.
Lincroft Village Jewelers offers professional repair services for all watches, jewelry, and diamonds. You can stop by anytime for a free quote and a consultation to best address your needs. Keep the following questions in mind in case you are looking for more information about our process and certifications.
1. Are the Repairs Done In-House?
Some jewelry repair facilities will send your piece away to a manufacturing facility for a quick fix. You should be confident that the jeweler of your choice will fix your piece in-house, with a variety of tools and expertise at their disposal. Lincroft Village Jewelers is a family-owned facility with same day, in-house jewelry repair guaranteed!
2. Is the Jeweler Bench Certified?
Make sure that your jeweler has been nationally recognized by the Bench Professional Certification Program to repair your jewelry. This can boost your confidence in their ability to fix your piece the right way and will guarantee that only the highest quality of work is done on your piece.
3. Do They Have High-Quality Reviews?
You can find the beginnings of this answer on your own. By doing a quick search on the Internet, you can find out whether or not your jeweler of choice can be trusted. Google or Yelp might yield reviews that were submitted by former or current customers of the company. Ask your jeweler if they have any testimonials they'd like to share.
4. Will the Diamond You Send in Be the Same One You Get Back?
It's important to be able to trust your jeweler when leaving your precious stones with them. The best way for a professional to answer this question is to allow you to see your diamond under a microscope, recognizing its specific characteristics and qualities. You are always guaranteed to get your same diamond back that you sent in for repair – and we'll appraise it, too!
Invest in Lincroft Village Jewelers Today!
Looking for a wide selection of elegant diamonds at an affordable price? Looking for a trustworthy and knowledgeable family-owned staff to help with your jewelry repair? Lincroft Village Jewelers dedicates nothing but the best in quality and craftsmanship.