Engagement Ring Mountings Are an Important Component in a Ring's Design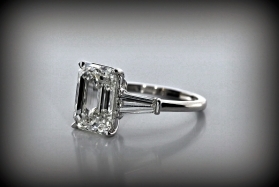 Ring settings can come in a variety of styles, thereby making the choice for a diamond engagement ring a challenging one. However, if you are seeking a classic ring setting, then the most common mount is the prong-type setting. A prong is a small metal claw that tightly grips a diamond, thereby holding it in place. Prongs can be made to be pointed, rounded, flat or v-shaped. V-shaped engagement ring mountings are the most common settings used in princess-cut diamond engagement rings.
Four- and Six-Prong Settings
Most prong settings consist of either four or six prongs. If you choose a mount with four prongs, more of the diamond's surface is displayed. However, the six-prong mounting will keep the diamond more secure. The major benefit of either a four- or six-prong setting is that more light can pass through the gem, which also adds to its brilliance.
However, that being said, prongs can also snag clothing or other fabrics, particularly if they are high set. Therefore, lower-set engagement ring mountings are sometimes preferred by women who lead active lifestyles. While most customers wear a prong setting without any problem, it still is important to have the prongs examined periodically to ensure they are still intact and have not become loosened over the course of time.
The Solitaire Setting
Of all the prong settings, the most common mounting is the solitaire setting that features a diamond or other precious gem. The solitaire setting is acclaimed as it draws all the attention to the stone without any other distractions such as fancy metalwork or other included gems.
Tiffany & Company developed a specific six-prong solitaire setting in 1886 to optimize the illumination of a diamond. As a result, this plain-band setting is now referred to as the "Tiffany setting," a trademarked design that is characterized by the configuration of its prongs. While you can have a ring customized to feature this kind of setting, it still will not be considered a "Tiffany" design unless its setting is trademarked by Tiffany & Company.